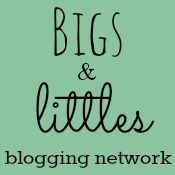 The past couple of months, I've been participating in a blog network called Bigs & Littles. I was paired up with the clever, blunt, entertaining, Lisa from Two Martinis and it has been a great experience! It has been great having someone to make blogging goals with, brainstorm ideas, etc. Lisa is hilarious, her tweets always make me laugh and her blog posts are so entertaining and something that I relate to on a regular basis. She is a newlywed like me (but a more recently married one) and she is working on adjusting to married life like a lot of the rest of us.
Lisa and I both came up with five questions that we wanted each other to answer, and then we answered them ourselves as well. I have listed the questions I asked, with both of our answers below and you can pop on over to Lisa's blog post here to read the other half of the questions!
1- What does your favorite or typical date night look like?
Lisa: This is actually a point that the Husband and I mostly disagree on. For whatever reason, he loves going to movies and also loves bowling. I'm really not a movie person (I know, crazy, right?) and bowling... bleh... It ruins my nails every time. But we can compromise on going to a sporting event. We're big hockey and football fans!
Amberly: Husband's favorite date would be to go to a matinee movie and then out for lunch afterward. I don't have a "favorite" date, I love doing all new, different things all the time. Our typical date night usually consists of dinner or take-out and then a Redbox movie or a few episodes of our favorite show on Neflix. Our opposite work schedules don't give us much time for normal person date nights.
2- Is there anything you make your husband do with you sometimes that he dreads?
Lisa: Actually, I don't think so! Let me ask him. He says no. But actually, I would say he definitely doesn't exactly look forward to cleaning the shower drain when my hair manages to clog it every few months or so.
Amberly: There are a lot of things that make my husband throw mini temper tantrums (literally). Usually any time I ask him to do something when he'd rather be doing his own thing. His least favorite things to do are taking out the garbage and helping get dinner on the table.
3- What is your favorite thing about being married?
Lisa: I could answer this in so many different ways (and I've done quite a few posts on this!) but I think I really love the grace in marriage. I love knowing that even when we fight, we'll forgive each other quickly, because we have to! I mean, we're going to be together forever, so we may as well be happy.
Amberly: Um... I LOVE Lisa's answer. I think one of my favorite things though is the time that we get together. Even on days when we both have crazy schedules, we get a few minutes at the end of the day to cuddle, and catch up on life. When we were dating, at one point, it was almost every other day that we wouldn't get the chance to see each other and had to settle for a phone call or just a few texts. Those days were the worst for me.
4- Do you have a dream vacation/experience that you both want to cross off your bucket list together?
Lisa: Africa was on the Husband's bucket list, and we checked that one off for our honeymoon. Hawaii was on both of our lists and we did that last month. Last year we rode a bicycle-built-for-two over the Golden Gate bridge in San Francisco...that was on my bucket list! Australia is on the Husband's list so I'm sure we'll get to that eventually... I actually don't have too many places left on mine!
Amberly: Hmm... apparently I need to discuss this with my husband so that we have one because right now I don't know if we really have a huge one. I do know that we both want to travel, and go to Europe. That's a ways down the road though.
5- Where do you plan/want to go on your next trip?
Lisa: We have weddings to go to this summer in Knoxville, Tennessee, New York City and Boston. We're planning a trip to South America in the fall and we may go to Thailand with friends in 2013. Life is so exciting!
Amberly: Right now our next big trip with just the two of us that we're planning for is to Mexico, back to where my husband served an LDS mission. He really wants to go back just for the food, he'll even admit that ;)